Anna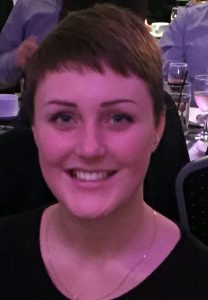 Anna , a long standing and very popular member of our club, left us on Saturday, 26th August 2017 to live and work in the Middle East, teaching primary school children in Ras al-Khaimah in the United Arab Emirates.
Anna has been a valuable member of our ladies and mixed 2 teams and will be greatly missed at the club, and we all wish her the very best for this next chapter of her life, and hope that we will see her again sometime in the not too distant future.
So that we can all keep up to date with how she's getting on, Anna  sent us some updates about how her new life is going in the UAE.
Anna's first message to us…
"Things here have been great, very busy but great. I met the Sheikh a couple weeks ago which was surreal. I haven't played tennis yet, still waiting for the temperature to drop a little."
We asked Anna about a few different topics…
How have you settled in over there?
"So right now I do feel very settled, my apartment feels a lot more like my home now rather than a hotel. I should be getting a car this week, which will help with getting around places too and having a bit of an explore. The weekends definitely still feel like a holiday though, because we get access to the Hilton beach club so we're surrounded by tourists."
How is your new job going?
"I am finding it much easier to work here, the hours are shorter although much earlier. The children arrive at school at 7:30 but leave at 2:30. We get Friday and Saturday as our weekend, Friday is the holy day.
"So far I haven't had to take any work home to do in the evenings or weekends, but I probably will have a bit when assessments are due I guess. The children are lovely, I've finally figured out how to pronounce their names, although I have a few who's English is very poor which does make things more difficult."
Is the heat really uncomfortable?

"It is hot but not unbearable unless you're out in it for a while, and there's air con everywhere."
What do you miss most?
"Honestly just family and friends. And my cats! So far there isn't anything I haven't found over here, they have all the same food, make up, clothes, everything. I don't have a TV right now, I just use my laptop to watch Netflix but I think there are some channels in English."
What things are there to do in your spare time?
"We went on a trip up the mountains which was beautiful. We've got a few things planned, going on a boat trip, snorkelling, camping in the desert, camel rides, those kind of things."
How did you come to meet the Sheikh?
"The school is owned by the Sheikh so he invites all the new teachers each year to come up to his winter home in the mountains and meet him, have dinner and entertainment."
Have you played any tennis yet?

"I've been able to play some tennis now the weather is cooler so that's been great to get back into."
Being an Islamic country, was there much evidence of Christmas over there?
"Christmas was a little strange because of the weather but they have decorations around in all the malls and hotels."